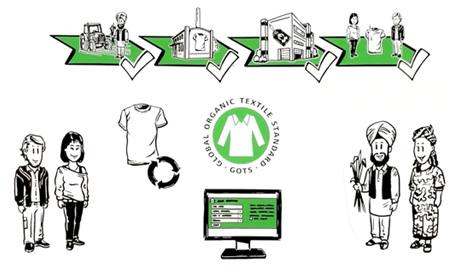 Jersey; GOTS stoffen of oekotex

Je koopt de stof per 10 cm en over de hele breedte.
Minimale afname is 3 stuks

10 cm = 1 stuks
20 cm = 2 stuks
30 cm = 3 stuks
40 cm = 4 stuks
etc..
100 cm / 1 meter = 10 stuks

De stof wordt uiteraard aan een stuk geknipt.
Unieke en duurzame stoffen, zoals GOTS stoffen.

Ansje gaat voor duurzaam. Dat betekent dat ik mijn cursisten en klanten graag een beetje bewuster maak van hun ecologische voetstap. Dat je weet wat je koopt, waar iets vandaan komt en door wie het is gemaakt. Dat je erop kunt vertrouwen dat producten duurzaam geproduceerd zijn, met respect voor de aarde maar ook voor mensen. En nee, ik weet ook niet alles. De stoffen die ik inkoop, zijn bij voorkeur GOTS gecertificeerd. Of ik ze nu rechtstreeks bij de ontwerper of via een producent koop, alle stoffen waarbij GOTS staat, hebben een GOTS-certificaat. Je mag pas GOTS stoffen verkopen als GOTS als deze een eigen certificaat hebben.
De Global OrganicTextile Standard (GOTS) is wereldwijd erkend en leidend op het gebied van het totale textielproces. Van vezel tot product; de hele textielketen staat centraal. Met als doel om alles op een verantwoorde wijze voor mens en milieu te produceren. Binnen de keten is aandacht voor de sociale criteria van alle werkzaamheden, wat betekent dat elke schakel een certificering heeft. Zo kan het zijn dat de fabriek een GOTS-certificaat krijgt, maar de designer die de stof (met zijn eigen designs) verkoopt, (nog) niet. Dit is soms verwarrend, maar aan mij de taak dit per designers na te gaan en uit te zoeken zodat de GOTS stoffen herkenbaar zijn in mijn webshop.
Merken met uitsluitend GOTS stoffen
Achter elk product in de product categorie staat vermeld of het GOTS stoffenzijn of oekotex. GOTS stoffen zijn vaak wat duurder dan gewone stoffen. Dit heeft te maken met het duurzame proces van vezel tot eindproduct. Het draagt toch veel fijner als je weet dat je iets draagt waar iedereen een veilige bijdrage aan heeft geleverd en een eerlijk loon heeft ontvangen.
Voorbeeld designers die GOTS stoffen produceren met certificaat
GOTS stoffen is niet hetzelfde als oekotex stoffen
Oeko-Tex Standard 100 is een test- en certificeringssysteem voor textiel, die zich richt zich op het beperken van het gebruik van schadelijke stoffen in relatie tot de gezondheid van de eindgebruiker. De Oeko-Tex Standard 100 is van toepassing op kleding en textiel. Denk hierbij naast kleding aan speelgoed gemaakt van textiel, beddengoed en tafellakens. Er wordt met vier productclassificaties gewerkt, op basis van het beoogd gebruik. Hoe dichter het product met de huid in contact komt en hoe gevoeliger de huid, des te strenger de eisen. Een Oeko-Tex-certificaat heeft een geldigheidsduur van een jaar.