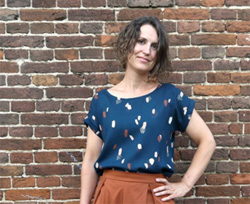 De mooie stoffen van Atelier Brunette

De mooie stoffen van Atelier Brunette worden ontworpen in Parijs sinds 2013. Atelier Brunette heeft dek now-howom stijl en kwaliteit te combineren. In een paar jaar tijd heeft het merk 60 unieke designs gemaakt in een bij elkaar passende kleurenpalet in vernieuwende stoffen van prachtige kwaliteit. Atelier Brunette houdt hierbij in gedachten dat de stoffen tijdloos en kwalitatief goed moet zijn, zodat de enthousiaste zelfmakers er mooie creaties van kunnen maken. Ze houden vast aan het principe van de slow fashion movement:

"Consumelessandconsumebetter".IetswaarAnsjeveelwaardeaanhecht.
De meest populaire stof is de Moonstone serie, een prachtige viscose rayon die mooi drapeert en elke kledingstuk ziet er daardoor mooi uit. Of het nu een jurk of een rok, top of blouse is. Maar ook de nieuwe gauze en double gauze worden positief ontvangen.

Wie zijn atelier brunette

Atelier Brunette is opgericht door Annabelle en Rajeev in 2013, zij waren op een missie om exclusieve stoffen te ontwerpen met aandacht voor kwaliteit, stijl en one-of-a-kind prints. De productie vindt plaats in India, bekend om zijn textielindustrie en high quality materialen. Rajeev komt uit India en is verantwoordelijk voor de productie en Annebelle is verantwoordelijk voor de design en marketing.

Atelier Brunette werkt aan een duurzaam merk

Atelier Brunette kiest alleen voor samenwerking met professionele textielbedrijven. Ze werken rechtstreeks met de Indiase fabrieken, zonder tussenpersonen. Door deze korte lijnen kan Atelier Brunette zelf de werk condities en regels bewaken en zorgdragen dat deze gerespecteerd worden. Er is met grote regelmaat een controle of deze afspraken nagekomen worden. Atelier Brunette is gecommiteerd aan fabrieken die de beschikbare certificaten hebben voor de Eurpese markt (iso9001 en Ecocert).
Ansje vindt het belangrijk dat de ontwerper en de medewerkers in de textielindustrie betaald krijgen voor hun harde werk. Daarom kiezen wij alleen voor bedrijven die dit duidelijk kunnen uitleggen en wat controleerbaar is. Veel stoffen hebben een
GOTS of Oekotex certificering
om dit kracht bij te zetten.